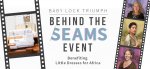 This is a free event but registration is required so we know how many kits to have on hand. Register here today!

Watch with us as Baby Lock introduces the Triumph on Facebook Live with Mimi G of Mimi G Style and Lindsay Wilkes of The Cottage Mama. They'll showcase the Triumph's features and give you an exclusive look at what makes this serger so special. Plus, Rachel O'Neill of Little Dresses for Africa will share how the little dresses you can sew and donate make such an impact on girls all over the world.




MAKE A DRESS FOR CHARITY
Little Dresses for Africa collects handmade dresses from around the world and donates them to girls in Africa. As part of the Behind the Seams event, you'll sew a dress for you to donate.