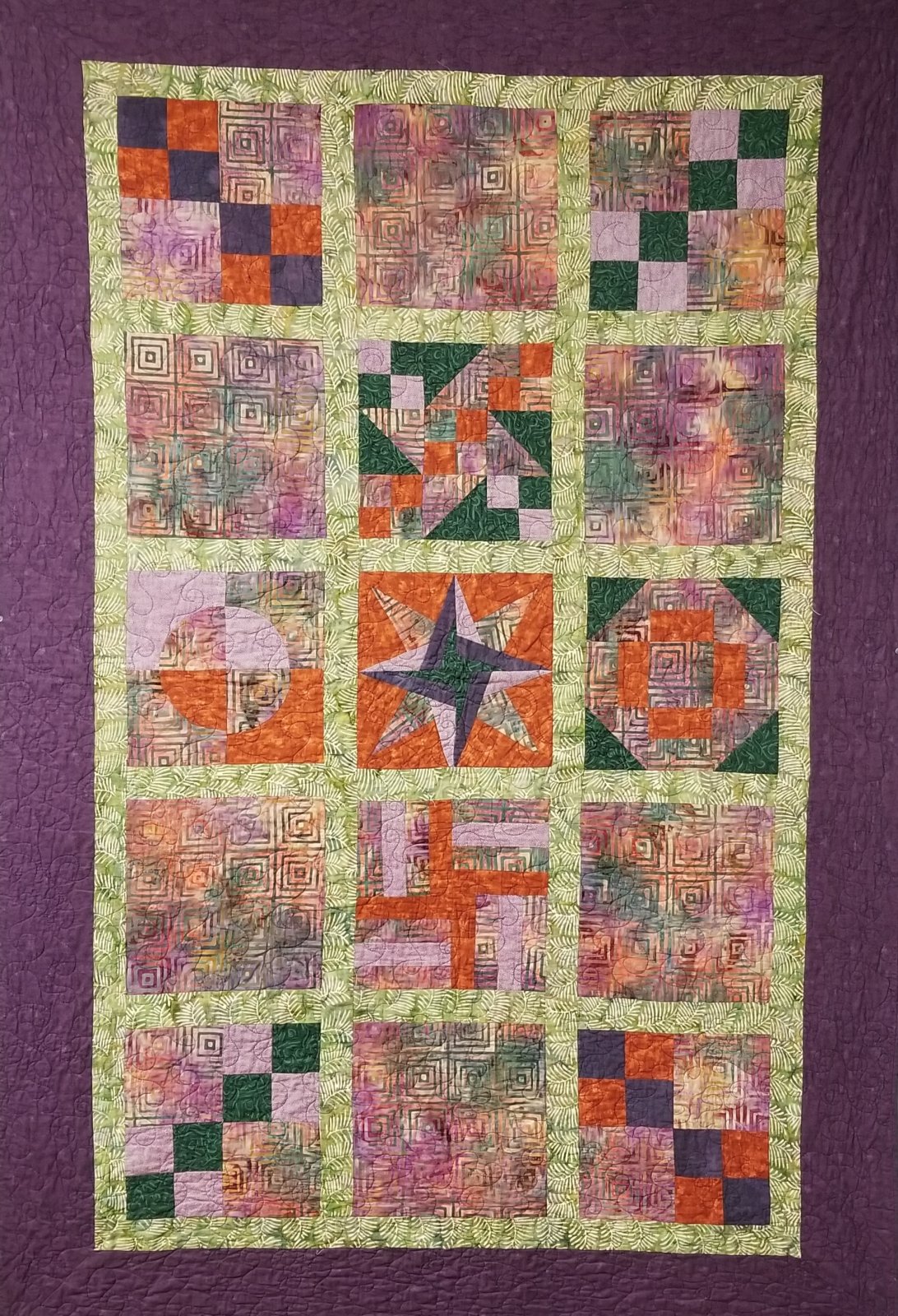 CLASS ONE OF SIX ~ Quilting Basics

In this class, the student will learn the basics of quilting. Topics include the quarter-inch seam, fabric selection, sewing machine basics, thread, color choices, pressing, and rotary cutting. BLOCKS TAUGHT: Split Rail Fence & Double Four Patch. The goal is for you to find the art of quilting fun and enjoyable.
This is a beginner-level class. Prior to attending you need to know how to sew a straight seam on a sewing machine.
In the first class, you only need to bring a pen and a notebook. All the following supplies will be discussed in class. It is strongly recommended you do not purchase your supplies, especially your fabric, until after the first class.
Materials needed to complete the six sessions:
Basic self-healing cutting mat
Rotary cutter
12 x 6 (or 12 ½ x 6 ½) inch acrylic ruler
A working sewing machine
Two and a half yards each of three different 100% cotton fabrics, which provide contrast (a light, a medium, and a dark) which together are pleasing to your eye
An extra ½ yard of 100% cotton fabric which complements your other fabrics (it can be one of the fabrics selected) for binding the quilt
You will need additional backing fabric, but it will vary with the size of your quilt.
You will also need batting, but again, the amount and what type will depend on what you choose for your quilt.
Flat-headed or glass headed pins
Neutral new thread (polycotton or 100% cotton)
Small sharp scissors
Seam ripper

Minimum number of students - 3

Maximum number of students - 8
| | |
| --- | --- |
| Skill Level: | Beginner |
| Skill Details: | This is a beginner level class. Prior to attending you need to know how to sew a straight seam on a sewing machine. |
| Instructor: | Candace Tull |
| Instructor Bio: | Candace Tull has been quilting for over 20 years. She loves to teach, and you will find her classes fun and engaging. Her motto when quilting is: If you are not having fun, you are doing it wrong! She has taught many classes and hundreds of quilters, but particularly enjoys the Beginning to Quilt class where people who have never quilted or even sewn much, learn this wonderful art form and release their creativity. She also specializes in teaching paper piecing, which is a way to make a complicated, perfect block, without having it BE complicated or difficult. She is a professional educator by training and is an advanced practice nurse. She has 3 grown children, 4 grandchildren and loves life. |